Sittingbourne Ladies
Sittingbourne Ladies First Team Fixtures 2019-2020
28/8/19. Sittingbourne 4 Aylesford 1
1/9/19. Sittingbourne v Ramsgate
8/9/19 Sittingbourne v Margate
15/9/19 Herne Bay v Sittingbourne KO 2.30
Kent Cup
22/9/19 Sittingbourne v Glebe
29/9/19 Cray v Sittingbourne
6/10/19 Sittingbourne v Cray
13/10/19 Long Lane v Sittingbourne
27/10/19 Meridian v Sittingbourne
10/11/19 Margate v Sittingbourne
24/11/19 Maidstone v Sittingbourne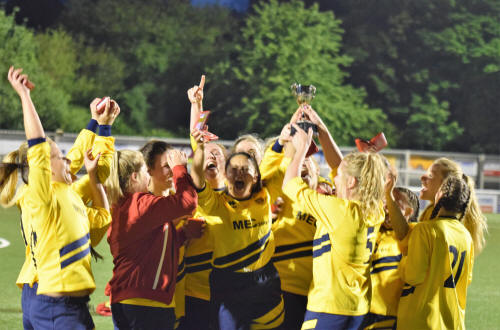 Congratulations to the Sittingbourne FC Ladies Team who beat Dartford Ladies reserves by 2-0 in the Kent Divisional Cup Final played at the Gallagher Stadium. Sittingbourne Ladies won the double this season having already won their league. Click on the pic for the report.
(Photo: Ken Medwyn)
The Ladies Team led the Sittingbourne and Guernsey mens teams out and had their presentation for winning the South East Counties Womens Football League - Kent Division 1 East and West at half time, (table link is HERE.) Pics below are by Glen Parkes.
Front row left to right.
Joana Ferriera, Maria Doria, Saskia Smith , Maisie Jones, Billie Halladay, Natalie Long, Bethany Emmett, Narissa Verall
From left to right back row.
Chris Baacke, Grace Baacke, Debbie Hall, Jemma Hook, Megan Seymour, Abigail Jackson (captain),
Bethany Jackson, Ellie Hancock, Alex Corbeil, Ian Jackson.
Sittingbourne Ladies 2nd's
Sittingbourne ladies FC 2nds have now brought the curtain down on their most successful season yet.A squad of players who are a great team on the pitch and a group of friends off it, a group of players who play for each other in the enjoyment of the game which in turn has earned them the best set of results since they were formed. You should be as proud of yourselves as we are of you all.
The road to success does not stop here, as the doors are now open for anyone wishing to come along, join us and give it a go. Summer training will start very shortly,along with tournaments and the clubs official trials are being held on May 26th, so for further details please feel free to contact us at info.sittingbourneladiesfc@gmail.com or
Waine 07398 277113
Sittingbourne ladies 2nds FC Manager /coach and Sittingbourne ladies FC Secretary.
Or Gary 2nds assistant Manager and Club Chairman on 07879627213